| | |
| --- | --- |
| Monday – Thursday | 9:30am – 7:00pm |
| Friday | 9:30am – 6:30pm |
| Some Saturdays | 9:00am – 3:00pm |
VILLIERS Oral Surgery and Implant Clinic
We are specialized in Oral Surgery, Dental implants and periodontics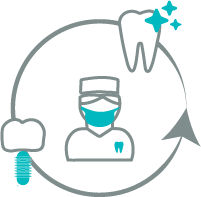 OUR SERVICES
The well-being of our patients is at the heart of our concerns. We have a warm team to best support patients in their treatment. We use the best in our field, in terms of equipment and materials as well as sterilization. Our team is regularly trained to keep improving.
Implantology

A dental implant is an artificial root to replace a missing tooth. This artificial titanium root will be inserted into the jawbone as the foundation for implant reconstruction. The bone will heal and weld on contact with the titanium: this phenomenon is called osseointegration; it can take 2 to 6 months depending on the case.
Periodontics

You may experience bleeding when brushing your teeth, retraction of your gums, food clumping between your teeth, abscesses, moving teeth, sensitivity to hot or cold or when chewing, a bad taste in your mouth, or gaps in your front teeth. In addition, you may have noticed that your parents have suffered or are suffering from loosening of their teeth.
CONTACT US
You can contact us, to make an appointment or send us your comments, by filling out the form below.
In case of emergency (to cancel an appointment, etc …) please contact the office by phone at 0033 (0)1 40 53 98 82.